We offer you support in the field of intellectual property in obtaining quasi-monopoly rights and enforcing the respective rights.
Through patents you can protect your technical inventions and thus gain a competitive advantage.
The scope of protection of your invention depends essentially on the formulation of the patent application. With our experience of drafting such applications, we are able to help you reducing the risk of circumvention of the patent by competitors.
… and if you think that a patent is too costly, you may also consider filing a utility model application for your invention. Such utility model application is an unexamined technical right of protection and, thus the "little brother" of the patent.
A registered design protects the shape and the appearance of your product.
Such registered design provides you with an effective protection against plagiarism, especially in cases, where the appearance of your product is essential for the purchase decision.
With our experience, we can help you select the most suitable pictures of your product in order to ensure that the scope of protection of the design is as efficient as possible.
… and by the way, protecting your product by a registered design does not exclude protecting the product with a patent.
A trademark has proven to be an essential part of a company's value.
The trademark is a special legally protected sign for the identification of goods and services of your company.
Especially in the sector of services, it is often not regarded that a registered trademark can serve as a unique selling point, which shows the customers the quality of your services.
Unfortunately, not every design can be protected as a trademark. We can advise you in setting up the list of goods and services, which can be applied for as a trademark.
NATIONAL/ INTERNATIONAL PROTECTION
If you want to protect and enforce your intellectual property further than only in Germany, we will also help you to do so in Europe and other European countries.
Intellectual property rights are basically national rights and it must be applied for in each desired country separately. However, trademark- and design-applications can also be filed at European level as a so-called Community Trademark or a Community Design. This right covers the complete EU by one single application.
Although European patent applications may be filed centrally with the European Patent Office, after the centralized grant procedure they have to be validated and enforced in each designated county separately.
If the new patent system, with the so-called Unitary Patent, comes in force in the EU in the coming year, a unitary patent protection in all EU countries, which participate in the new patent system, will be possible. We can inform you about the new possibilities for your company, which are provided by the Unitary Patent.
For intellectual property rights in non-EU countries, we work with experienced colleagues, which handle the case in the respective country. We provide a centralized coordination of the family of all intellectual property rights in the different countries.
… and if your business is bases in non-EU countries, we provide the representation, which is mandatory for such firms before the European Patent Office, the German Patent and Trademark Office, and the Office for Harmonization (HABM) in Alicante.
To prevent you from unpleasant surprises during the product development, we can monitor the property rights of your competitors on a regular basis for a predetermined period.
We prepare the obtained results of such monitoring in a manner to facilitate a decision on the further procedure for you. We also elaborate a strategy for a reaction together with you, so that you are well prepared in every step during the product development.
Drafting New Applications
Filing New Applications
Infringement Analysis
Monitoring of IP-Rights of Competitors
Freedom-to-Operate Searches
Advising on Employee Invention Act Regulations
Opposition and Nullity Proceedings
Preliminary Injunctions
Quantitative Patent Portfolio Analysis
Coordination of Foreign Applications
etc….
The legal field of intellectual property is a very broad.
Within our Office, we can handle the representation before the German Patent and Trademark Office, the Federal Patent Court in Germany and before the European Patent Office.
As far as a lawyer is mandatory, for example, for representation in infringement proceedings held before the District Court or Higher District Court, we help you find exactly the right specialist with whom we cooperate in the relevant procedures to provide our technical expertise.
Thus, we can define the optimal approach, customized for each respective situation.
…. we can also take care of pre-trial disputes, such as preliminary injunction for example at a trade.
EXAMPLES OF OUR LEGAL SERVICES
Patents
Trademarks
Designs
Employee Invention Act
Competition Regulations
Investigations of EU Customs Administration
Preliminary Injunction
Opposition Proceedings
Nullity Proceedings
Application Proceedings
Different technical fields often need different approaches. What is known in one technical field may be a breakthrough innovation for another technical field.
Due to the interdisciplinary education in chemistry, catalyst technology, semiconductor technology and physics to radar technology and conventional mechanical engineering, we can assist you in obtaining and defending industrial property rights substantially in the full range of technologies.
Our technical experience has not only been obtained during educational training and studies, but also gained during several years of technical working experience.
… and we also always think out of the box to provide you the best possible result.
EXAMPLES OF OUR TECHNICAL EXPERTISE
Mechanical Engineering
Automotive
Packaging Technology
Building Physics
Renewables
Information Technology
Radar Technology
Material Science
Chemistry
Surface Technology
Medical Science
…
To mention only a few aspects, we have for example drafted patent applications for dual-clutch transmissioss, for injection molding of toothbrushes, for folding of fast-food packaging, for biochemical tests with antibodies, for chash-boxes, for steel alloys and steel processing.
…however, we always recommend prevent from inventing the perpetual mobile .
Commonly if one thinks of goods in the economy, tangible things such as gold, silver, wood, oil, real estate, salt, spices or tulips are what come to mind. The competition for growth and success has always been a competition for raw materials.
A second paradigm of economy however, is on the point to substitute the material resources: The intellectual property.
The real capital of modern business enterprises often cannot be found in the underground. It is in the minds and on the computers of their own employees – manifested in blueprints, sketches, new technologies, patents, market studies, production or technical data.
A holistic view of technology, law and "business" is becoming increasingly important in order to secure in an efficient manner and with reasonable cost-benefit framework a sustainable competitive advantage.
It is easy to build an intellectual property portfolio with high financial expenditure.
Surprisingly the well known Pareto principle, according to which 20% of expenditure leads to 80% of the output applies also in the area of ​​Intellectual Property management.
We can help you, based on our experience in Management Consulting, to maximize the value of your ​​Intellectual Property as a business asset.
… you will learn that IP is not always just a cost factor
ROLE OF INTELLECTUAL PROPERTY IN THE VALUE CHAIN
You wonder why the factor "IP" is not contained in the classic picture of the value chain?
It is time to change that!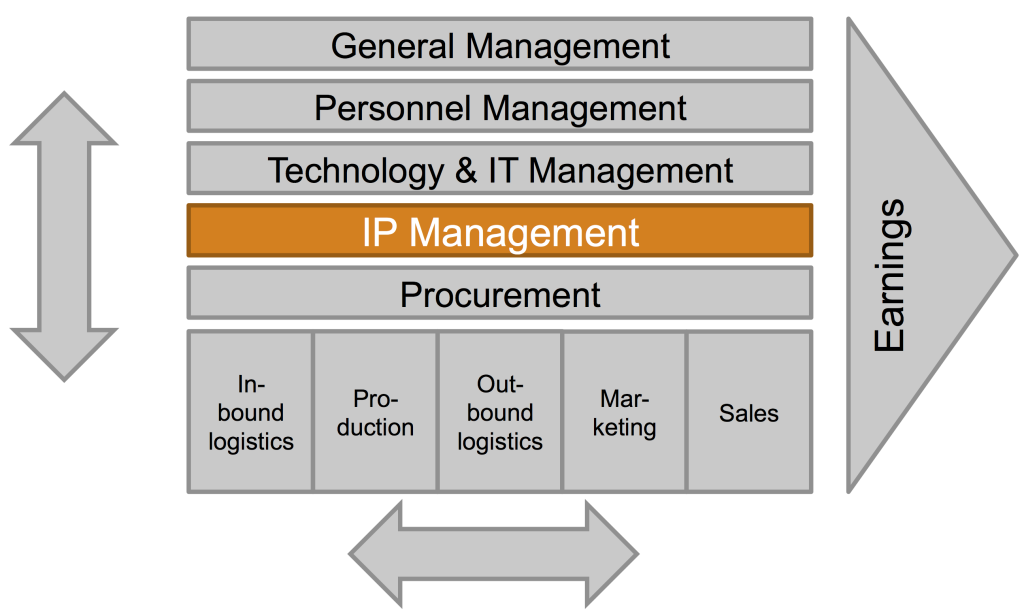 Every day we rack our brains, which is the best strategy for our clients. Some exciting issues we would like to share with you.
Together with friends you have a great idea. Based on the bespoken idea you think about setting up a start-up to produce and distribute the inventive product.
You have taken your savings in order to elaborate and file a less costly utility model application in Germany. As a consequence, during the next year you can present your business plan to possible investors without the risk that someone will take over your idea.
During this (priority) year you have also found an investor who believes in your invention. He, based on the German utility model application, is going to invest in subsequent applications in Russia, India and Canada for you.
In order to actually produce your product and to establish a sales structure, you need fresh capital.
We help in the assessment of patent portfolios. For example, we can estimate from the examination procedure and the examination results in Germany, Russia, India and Canada, the financial value of your patent portfolio. With our provided assessment it might facilitate inconvincing a bank or other investors to give you more money.
At a trade show in the United States you saw a great product, which is not yet on the market in Germany. You agreed with the producers that your company can take over the exclusive distribution in Germany.
However, you do not know to what extent property rights, such as Patents exist in Germany, which your product may infringe.
We can analyze whether there are critical intellectual property rights in Germany in force and we can assess whether your product infringes the scope of protection thereof.
One of your employees has made an invention. In the meantime, as it is commonly handled within your firm, you have filed a patent application for the invention. The patent has already been granted.
The invention was so successful that the improved product is liked by the customer which leads to a much higher profit margin.
In Germany the invention which is made by an employee is not directly assigned to the company. Herefore the company has to take over the invention.
Moreover, for such an invention the employee has to receive an extra remuneration for his invention in addition to his salary.
The employee who has made the invention, now claims 5% of sales revenue in addition to his salary.
For assessing an appropriate level of extra remuneration in Germany a complex calculation is commonly used.
We can give you clues concerning the amount of an equitable remuneration and also convey that you can make an agreement on the amount of remuneration with your employee without further disputes.
is German Patent Attorney, European Trademark and Design Attorney and European Patent Attorney.
After studying chemistry, he completed his doctorate in surface physics at the University of Bonn. After taking over various positions at Fraunhofer-Gesellschaft in the areas of radar technology and physics, he worked in the Business Development branch and accompanied a spin-off before he moved to the strategy consulting practice of Accenture GmbH, an international consulting firm.
During his education as a patent attorney, he worked for Grünecker patent attorneys and attorney at law, one of the leading firms in the field of intellectual property in Europe, with which he still works in cooperation.
Due to the interdisciplinary education Dr. Essen can handle a variety of technical fields. Through his experience in the intellectual property practice in an international law firm, he gained wide experience in relation to the different legal issues.
Further to the classic field of engineering and law, which are typical for a Patent Attorney, his experience in Management Consulting give Dr. Essen the ability to also handle many business related themes. Thus, he welcomes you to assist in generating a holistic view of the topic IP.
Please enter your contact information and your message below. We will respond to your request as soon as possible.
Dr. Jan Markus Essen
German Patent Attorney,
European Patent Attorney,
European Trademark and
Design Attorney
Lessingstraße 3
D-80336 München
Germany
Tel +49 89 20 97 33 23
Mobil +49 171 49 666 46
Fax +49 89 20 94 16 26